May 17, 2023

fashiontuts

0
If you're just getting started with your skincare routine , it might be really daunting to construct the optimal regimen. In other words, are serums and toners truly necessary?  Do you really need to follow a 10-step routine to have healthy skin? (Definitely not) And what exactly is the correct order for a skincare products layers?
Relax and take a deep breath. I assure you that by the time we're done here, you will have gained confidence, and all that is needed.
Where do I even begin with my skin care routine?
A 10-step or 5-step skincare routine is unnecessary. "Product reducing is key for your skin, Less is more ." says dermatologist Karan Lal, MD.
Skin needs hydration and moisture for a good barrier, which can be achieved with a few products. As agreed by most dermatologists, these products include:
Cleanser face wash gentle and sulfate-free.
Fragrance-free moisturiser for twice-daily use.
SPF 30+ mineral or chemical sunscreen.
That's it—cleanser, moisturiser, and SPF. Good skin doesn't need to be gorgeous. More products mean greater discomfort, allergic reactions, and breakouts.
You can build an advanced skincare routine. It is suggested adding a retinoid if you want to use more than three basic products. Add vitamin C after 3 months if skin is ready. Other products? 5 products is the maximum.
How to develop and implement a multi-step skincare routine?
Apply lightest skincare products first and heaviest last. Thinner products can't penetrate thicker ones. Serum over moisturiser won't work.
Skincare routine with Best Cleanser
Remove makeup and wash face before applying products. Clean skin is necessary for ingredient absorption.
Use cleansing oil instead of makeup wipes to remove makeup without irritating your face. Use a gentle, creamy cleanser for acne-prone skin. Don't complain, it's a required step in the routine.
Choosing the right cleanser for your skin type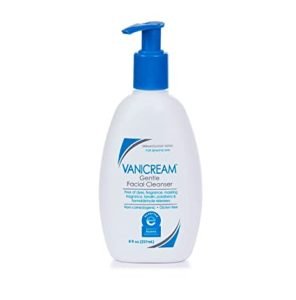 Best face wash for dry skin: creamy, non-foaming with ceramides, hyaluronic acid, and glycerin.
For oily skin, use gel-based or gentle foaming cleansers and avoid stripping formulas like charcoal, sulphate, and clay-based cleansers.
Acne-prone skin, use gentle, creamy cleansers to avoid inflammation and breakouts.
For sensitive skin, use a gentle face wash with colloidal oatmeal, aloe vera and niacinamide.
Toner
Toners today are either hydrating for dry and sensitive skin or contain chemical exfoliants for treating acne. Toners shouldn't feel heavy on the skin. Priming face for better absorption later.
Toner is optional. If it smells like nail polish remover or alcohol, replace it. Here's how.
Finding the Right Toner  for Your Skin
Best toner for acne-prone/oily skin: Use a toner with BHA or AHA to unclog pores, prevent breakouts, and dissolve blackheads.
How to apply toner:
Apply acid-based toners to clean, dry skin every other night. Wait 60 seconds before applying another product.
Dry/sensitive skin: Hydrating toners are best for dry and sensitive skin types. They help replenish lost water from washing and drying your face. All skin types can benefit from them.
How to apply toner:
Apply hydrating toner to clean, dry skin morning and night. No such thing as too much moisture for any skin type.
Which Serum is effective for skincare routine
Serums are concentrated nutrients that improve skin health when applied. Use them, they're important for your skincare routine.
Serums are optional but can boost your skincare routine and skin health.
Dermatologists recommend using vitamin C serum in the morning for all skin types. It protects against environmental damage and brightens dark spots. Use Vitamin C every other morning if your skin is sensitive.
Use a hydrating serum with hyaluronic acid at night and in the morning for hydrated skin. Moisturise before using acne or anti-aging products.
Which Eye Cream Goes with my skin care routine?
Apply eye cream before the face moisturiser.
Note: Eye creams are usually not necessary. Moisturiser and sunscreen are enough for your eye area. It is suggested to use a gentle night eye cream instead of retinol. Use a hydrating eye cream to protect and repair your skin barrier overnight.
Use retinol around the eyes and apply it to the whole face instead of spot-treating.
How do I Include Spot Treatment in skincare routine?
Apply spot treatments at night for best results,. Spot-treat in the morning if you use acids or retinoids at night.Apply spot treatment before moisturiser for better penetration. Use hydroquinone or niacinamide for spot treatment. Use niacinamide daily, but hydroquinone every three days.
It is recommended to use  benzoyl peroxide and salicylic acid separately for acne. Use benzoyl peroxide for whiteheads and salicylic acid for clogged pores and inflamed bumps.
Spot treatment instructions
Apply any formula: Apply a small coating and wait a minute. Apply moisturiser to your face, avoiding the spots, to prevent the treatment from spreading. After moisturising, dab a dot on spot treatment area on your face.
Moisturizer
Use moisturiser twice a day. Skin needs moisture and hydration to stay healthy. Use products with ceramides, glycerin, and hyaluronic acid for all skin types. Moisturiser helps trap in products for better effectiveness.
Use moisturiser with SPF 30 in the morning if you skip sunscreen. Wait 5-10 minutes before applying makeup after your morning skincare routine.
Choosing moisturiser for your skin type:
For oily skin, use lightweight moisturisers in cream or gel-based formula to hydrate without feeling greasy. Best moisturisers for dry skin should contain hyaluronic acid, lipids, and proteins. Use cream-based formulas AM and PM.
Choose a lightweight lotion for dry acne-prone skin and a gel-based or cream formula with salicylic acid for oily skin.
Does skincare routine really need Retinol?
Retinoids speed up cell turnover for fresher, smoother skin. Consistency is key with retinoids, which take 4-6 months to show results.
Wait 6 months for wrinkles to smooth out, but see other results sooner. Retinoids boost collagen, exfoliate cells, fade spots, clear pores, prevent breakouts, and brighten skin. Retinoids are like magic for dermatologists.
Start slow with retinoids to reduce initial flakes and sensitivity. Apply a pea-size drop to your face once a week, then increase gradually.
Don't double up on retinoid night cream for anti-aging. It can cause inflammation. Apply moisturiser before and after using retinol for sensitive skin. Moisturise your face like a sandwich.
Oils
Face oils seal in ingredients and moisture to prevent quick evaporation. Oils don't moisturise skin alone, but they increase the effectiveness of your routine and leave skin softer when layered over products. Apply oils last.
Celebrate
You learned almost everything about skincare. Call yourself a mini dermatologist (not in front of real doctors).
Avoid skincare products with miraculous claims.
People buy expensive products to prevent wrinkles and dark circles.
"If it sounds too good to be true, it's probably not true". Products can help, but don't trust unreasonable promises.
Make an appointment with a dermatologist instead so you can find out what's best for your skin. Dermatologists can discuss active ingredients and clinical data for specific products if you feel overwhelmed.