April 24, 2023

fashiontuts

0
Having dry skin can be hard to deal with, especially when the weather is rough. Finding the best moisturizer for dry skin can seem like an endless task. But don't worry! In this piece, we'll tell you about the 10 best moisturizers for soothing and hydrating dry skin.
What Causes Dry Skin?
Dry skin can be caused by things like genes, the surroundings, getting older, or using harsh skin care products. It's important to figure out why your skin is dry so you can choose the right lotion for your needs.
How to Choose the Best Moisturiser for Dry Skin
Ingredients to Look For
When choosing a moisturizer for dry skin, look for ingredients that can successfully hydrate and lock in moisture. Look for humectants like hyaluronic acid, glycerin, and urea, and emollients like ceramides, fatty acids, and shea butter. Sealing in moisture and protecting the skin's barrier can also be done with occlusives like petrolatum and dimethicone.
Ingredients to Avoid
Avoid products containing alcohol, artificial fragrances, and harsh chemicals, as these can exacerbate dryness and irritation.
Read more: Winter Skincare Tips & Home Remedies to Keep Your Skin Moisturized
Top 10 Moisturisers to Soothe and Hydrate Dry Skin
1. CeraVe Moisturizing Cream
The ceramides, hyaluronic acid, and glycerin in this rich cream make it a great choice for dry skin. It helps repair the skin's natural layer and locks in moisture to keep the skin hydrated for a long time.
2. La Roche-Posay Toleriane Double Repair Face Moisturizer
This lotion is great for people with sensitive skin because it is not too heavy. It has niacinamide, ceramides, and glycerin, which give your skin a lot of moisture without clogging your pores or making you break out.
3. Neutrogena Hydro Boost Gel-Cream
This gel-cream doesn't have any oil in it. Instead, it has hyaluronic acid, which pulls and keeps moisture on the skin. It works on all skin types, even sensitive skin, and hydrates right away without feeling sticky.
4. First Aid Beauty Ultra Repair Cream
Colloidal oatmeal, shea butter, and allantoin are all in this thick, healing cream. It's great for people with dry, red, or itchy skin because it gives instant relief and keeps the skin hydrated for a long time.
5. Vanicream Moisturizing Skin Cream
Vanicream is a moisturizer for sensitive skin that dermatologists suggest. It doesn't have any dyes, chemicals, or parabens, so it's a great choice for people who want a gentle hydrating cream that works well.
6. Aveeno Skin Relief Intense Moisture Repair Cream
This thorough repair cream is great for people with very dry skin because it is made with colloidal oatmeal, shea butter, and glycerin. It calms and hydrates the face while making its natural barrier stronger.
7. Olay Regenerist Deep Hydration Regenerating Cream
This anti-aging moisturizer has hyaluronic acid, niacinamide, and peptides that deeply hydrate and restore dry, older skin. It helps to smooth out fine lines and wrinkles and gives the skin a glow that makes it look younger.
8. Burt's Bees Intense Hydration Night Cream
This natural night cream has clary sage and bacterial technology in it, which gives your skin a lot of moisture while you sleep. It's great for people who want a nourishing and moisturizing cream that doesn't contain any harsh chemicals.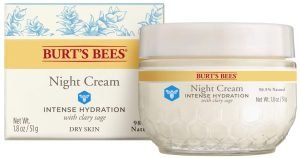 9. Eucerin Q10 Anti-Wrinkle Sensitive Skin Cream
This fragrance-free moisturizer is formulated with coenzyme Q10, vitamin E, and beta-carotene, making it an excellent choice for dry, sensitive skin. It helps reduce the appearance of fine lines and wrinkles while providing essential moisture.
10. Kiehl's Ultra Facial Cream
This cult-favorite moisturizer is suitable for all skin types, including dry skin. It's formulated with squalane, glycerin, and avocado oil, providing long-lasting hydration without feeling heavy or greasy.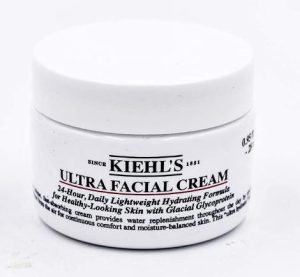 Conclusion
Finding the best moisturizer for dry skin can make a big difference in how you take care of your skin. Think about the top 10 creams listed above and look for ingredients that work well for your skin type. With the right moisturizer, you can successfully soothe and hydrate dry skin, which will give you a healthy-looking glow.
Check out: Gentle Rejuvenation: Anti-Aging Skincare Routine for Sensitive Skin
FAQs
Can I use a moisturizer for dry skin if I have oily skin?
Some products for dry skin may feel too heavy for oily skin, but others can still hydrate the skin without making it make more oil. Look for products like Neutrogena Hydro Boost Gel-Cream that don't contain oil and won't cause acne.
How often should I apply moisturizer on my dry skin?
Moisturizing at least twice a day, in the morning and at night, is important. You can also use lotion as needed during the day if your skin starts to feel dry or tight.
Should I exfoliate my dry skin?
Yes, exfoliating can help get rid of dead skin cells and speed up the turnover of skin cells, which can lead to skin that is smoother and better conditioned. But be gentle and pick a light exfoliant, since rough exfoliation can make dryness and irritation worse.
Is it necessary to use a separate moisturizer for my face and body?
It's usually best to use a different lotion on your face, since the skin there is more sensitive and more likely to get irritated. Some body lotions are too thick and can make your face break out.
Can I use a humidifier to help with dry skin?
Yes, a humidifier can help add moisture to the air, which may help relieve dry skin, especially in the winter or in places with little rain.
Read more: Diet for Excellent Skin Care: Oil is an Essential Ingredient