April 3, 2023

fashiontuts

0
Short Hunter boots have quickly become a must-have for fashion-forward people all over the world. These boots are great for people who want to look good and be safe in any weather because they are durable, comfortable, and useful. In this article, we'll talk about the materials and construction that make Hunter boots so reliable. We'll also talk about how to wear them for different occasions and give you tips on how to accessorize them and take care of them.
Materials and Construction
Waterproof Materials
One of the best things about Hunter boots is that they can keep your feet dry when it's wet outside. They are made of high-quality rubber, which is waterproof by nature and protects well from rain, snow, and mud. This makes them a great choice for people who live in places where the weather changes often.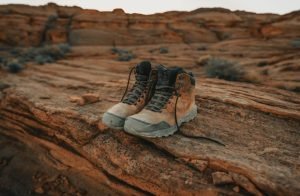 Durable Construction
Hunter boots are known for being durable because they are made well and have seams that are reinforced. This makes sure that your boots will last for many years, which is a great use of your money. The boots also have a slip-resistant sole that makes them safer to wear on wet or slippery surfaces.
Versatility in Fashion
Short Hunter boots are incredibly versatile and can be worn with a variety of outfits, making them a wardrobe staple for any fashionista.
Casual Outfits
Pair your short Hunter boots with skinny jeans or leggings, a big sweater, or a loose-fitting shirt for a casual look. This outfit is great for running errands or going out with friends for a casual day. You can also wear your boots with a simple dress or skirt for a cool, laid-back look.
Read more: Fresh and Funky: Street Style Fashion for Trendsetting Teens
Dressy Occasions
Hunter boots are often worn for casual occasions, but they can also be dressed up for more formal events. For a stylish, put-together look, wear your boots with a structured dress, tights, and a jacket that stands out. You could also wear them with tailored pants and a blouse for a more elegant look.
Seasonal Styling
Short Hunter boots can be worn year-round, making them a versatile addition to your wardrobe.
Spring and Summer
During the warmer months, style your boots with lightweight dresses, skirts, and shorts. Choose bright colors and patterns to create a fun, playful look that's perfect for sunny days.
Fall and Winter
As the weather gets cooler, Hunter boots are a good way to keep your feet dry and warm. Pair them with cozy leggings, jeans, or thick tights, and add sweaters, scarves, and jackets to make a stylish and comfortable outfit for cold weather.
Accessorizing Your Hunter Boots
Socks and Liners
Add socks or liners to your Hunter boots to make them more comfortable and stylish. Hunter has a variety of boot socks that are made to fit their boots and provide extra warmth and comfort. You can make look your own by choosing from different colors, patterns, and materials. During the colder months, boot liners can be used as extra insulation to keep your feet nice and warm.
Belts and Scarves
Don't be afraid to wear belts and scarves with your Hunter boots. When you wear a dress or skirt, a stylish belt can be used to cinch in your waist. This gives your outfit a touch of elegance. Scarves can also be worn around the neck or over the shoulders to keep warm and look good.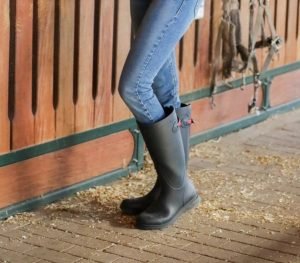 Caring for Your Hunter Boots
To keep your short Hunter boots looking their best, it's essential to care for them properly. Follow these simple tips to maintain their appearance and prolong their lifespan:
Clean your boots regularly using a damp cloth or sponge to remove dirt and grime.
Avoid exposing your boots to direct sunlight or heat sources, as this can cause the rubber to crack or become discolored.
Store your boots in a cool, dry place, away from direct sunlight or heat.
Use a rubber care product to condition and protect your boots, helping to maintain their flexibility and shine.
Conclusion
Dressing stylishly in any weather is easy when you wear short Hunter boots. With their waterproof materials, sturdy construction, and many different ways to wear them, these boots are a must-have for any closet. Don't forget to add socks, liners, belts, and scarves as accessories, and take good care of your boots so they look great for years to come.
FAQs
Q1: Can I wear my short Hunter boots in the snow?
A1: Yes, short Hunter boots can be worn in the snow, as they are waterproof and provide excellent traction. However, for added warmth, consider wearing thick socks or boot liners.
Q2: What is the best way to clean my Hunter boots?
A2: Use a damp cloth or sponge to gently wipe away dirt and grime. Avoid using harsh chemicals or abrasive materials, as these can damage the rubber.
Q3: How can I make my Hunter boots more comfortable for all-day wear?
A3: Invest in cushioned boot socks or liners designed specifically for Hunter boots. These provide added comfort and support, making your boots more comfortable for extended periods.
Q4: Can I wear my Hunter boots with a formal dress?
A4: Absolutely! Pair your Hunter boots with a structured dress, tights, and a statement jacket for a stylish, polished look that's perfect for dressier occasions.
Q5: How do I store my Hunter boots when not in use?
A5: Store your boots in a cool, dry place, away from direct sunlight or heat sources. This will help prevent the rubber from cracking or becoming discolored.
Check out: What are Some Ethical and Eco-Friendly Alternatives to Leather Shoes?