April 6, 2023

fashiontuts

0
Getting ready for a first date can be both exciting and nerve-wracking, especially when it comes to choosing the right outfit. When winter weather is added to the mix, the job can seem even harder. Don't worry! In this article, we'll talk about some stylish and warm outfit ideas for a winter date night, as well as the fabrics, accessories, and tips you need to look your best.
The Importance of Dressing Appropriately for a Winter Date Night
The impact of dressing warmly and fashionably
Finding the right balance between warmth and style is the key to dressing for a winter date night. You want to look stylish, but you also want to stay warm and comfortable when it's cold outside. A well-thought-out outfit can make a great first impression by showing how stylish you are and how much you pay attention to details.
The Influence of first impressions
On a date, the first impression is very important because it sets the tone for the whole night. A stylish outfit that goes together well can give you more confidence, make you feel more at ease, and let your personality shine through.
Essential Winter Fabrics and Materials
Wool and cashmere
Wool and cashmere are your best friends when it comes to winter clothes. Both materials are great at keeping the heat in without adding bulk. For the most comfort and style, look for sweaters, cardigans, and coats made from these fabrics.
Faux fur and shearling
Shearling and Faux Fur Add a Touch of Luxury to Any Winter Outfit. Think about adding a statement coat, a cozy collar, or a pair of stylish boots made of these materials to your outfit.
Leather and suede
Leather and suede are also great choices for winter clothing because they provide warmth and a stylish appearance. Choose leather or suede for your winter date night jacket, boots, and accessories.
Read more: Long-Lasting Women's Outfits for the Holiday Season
Winter Date Night Outfit Ideas
The Classic Coat and Jeans Combo
Choosing the perfect coat
Any winter wardrobe needs a well-fitting coat. Whether you prefer a classic trench coat, a stylish wool coat, or a trendy faux-fur coat, make sure it goes with your outfit and is warm enough.
Styling jeans for a winter date
For a casual but put-together look, wear your coat with jeans that fit well. Choose dark-washed denim or black jeans for a more polished look. Finish the look with a stylish top or sweater, and you're ready for your winter date night.
Elegant Dresses and Tights
Selecting the right dress
If you choose the right fabric and style, a dress can be a great option for a winter date night. To stay warm and stylish, choose a knee-length or midi-length dress made of a thicker material, like velvet or knit. For extra warmth, think about wearing long sleeves or a high neckline.
Pairing with tights and footwear
For warmth and a streamlined appearance, finish off your dress with opaque tights. Choose shoes that go with the outfit, like ankle boots with heels or stylish knee-high boots.
Sophisticated Jumpsuits and Layering
Opting for a chic jumpsuit
Jumpsuits are a great alternative to dresses because they can be dressed up or down. Make sure your jumpsuit fits well and brings out your best features by selecting one with a warm fabric and a flattering cut.
Layering with jackets and accessories
A stylish jacket, like a cropped blazer or a tailored leather jacket, can be worn over a jumpsuit to keep you warm. To finish off the look, add a statement necklace or a daring belt.
Winter Accessories to Complete Your Look
Scarves and gloves
Gloves and a stylish scarf are important winter accessories that can also make your outfit look better. Choose materials and colors that go well with your outfit, and don't be afraid to experiment with different textures and patterns.
Hats and beanies
Headwear can be both practical and stylish. Choose a hat or beanie that fits your style, keeps you warm, and adds a little flair to your winter date night outfit.
Boots and booties
Your footwear can make or break your winter outfit. Choose stylish boots or booties that are both warm and comfortable so you can enjoy your date without having to worry about your feet getting cold.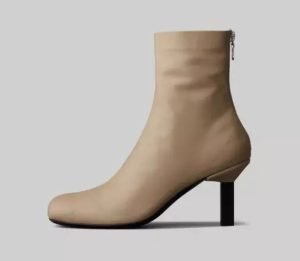 Tips for Choosing the Perfect Winter Date Outfit
Plan your outfit in advance to avoid last-minute stress.
Prioritize comfort and warmth without sacrificing style.
Experiment with layers and textures to create visual interest.
Coordinate your outfit with your date's attire, if possible.
Consider the date's setting and activities when selecting your outfit.
Conclusion
Dressing for a winter date night can be fun and rewarding if you consider warmth, style, and comfort. By thinking about essential fabrics, incorporating trendy outfit ideas, and accessorizing with trendy winter staples, you'll be well on your way to making a great first impression.
FAQs
What color combinations work best for winter date night outfits?
Darker colors like black, navy, and burgundy are popular choices for winter outfits. However, don't be afraid to add a pop of color or play with patterns to create a unique and eye-catching ensemble.
Should I dress more formally for a winter date night?
The level of formality depends on the date's setting and activities. It's always better to be slightly overdressed than underdressed, so consider leaning toward a more polished look when in doubt.
Can I wear open-toed shoes or heels for a winter date night?
While open-toed shoes or heels can be stylish, they may not provide the warmth and comfort needed for a winter date. Consider opting for closed-toe heels or heeled boots instead to ensure both style and warmth.
How can I add a personal touch to my winter date night outfit?
Incorporate your favorite accessories, such as statement jewelry, a unique belt, or a patterned scarf, to showcase your personality and individual style.
Is it okay to wear a lot of layers for a winter date night?
Layering is essential for staying warm during the winter months, but be mindful not to overdo it. Choose thin layers and well-fitting clothes to avoid appearing bulky or uncomfortable.
Check out: Stylish Short Hunter Boots Outfits: Fashionable Looks for Any Weather