April 21, 2023

fashiontuts

0
When you think of a day at the race track, you might think of loud engines, the smell of burning rubber, and the thrill of competing. But for people who are into fashion, it's also a chance to show off their own style. In this piece, we'll talk about the best classic and modern outfits to wear at the track, keeping comfort and function in mind. So fasten your seatbelt and let's rev up your style for your next race day trip.
Classic Trackside Fashion
Some things never go out of style, and the standard race day outfit is one of those things. Here are some things that will never go out of style that you can add to your look:
The Timeless Fedora
Any outfit looks more stylish when you wear a hat. Choose one in a neutral color, such as brown or gray, so it will be easy to match with the rest of your outfit.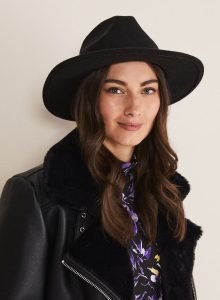 A Crisp Button-Down Shirt
A crisp button-down shirt in a basic color like white or light blue can't go wrong. It's the perfect base layer for any outfit for a race day and will keep you looking put together all day.
Tailored Pants
Put your button-down shirt with a pair of fitted pants in a color that goes with it. This will not only make you look polished and professional, but it will also keep you comfy all day.
Chic Sunglasses
With a stylish pair of sunglasses, you can protect your eyes and add a touch of glam. Choose a standard style like aviators or wayfarers, and you'll fit right in with the crowd at the race.
Modern Trackside Trends
If you want to stand out from the crowd and make a statement with your race day outfit, try these modern trends:
Bold Prints
Why not stand out with a bright print? A bold print, like a tropical pattern or a geometric design, can bring your look to life and show off your style.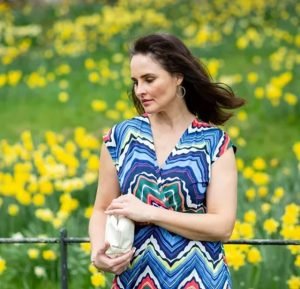 Wide-Brimmed Hats
Switch out your fedora for a hat with a wide brim to give your outfit a modern twist. Not only do they look good, but they will also help protect you from the sun.
Sneakers with Style
Who says you have to give up style for comfort? Choose a pair of trendy sneakers in a bright color or with interesting features to dress up your outfit and keep your feet comfortable all day.
Layering for All Weather
The weather can change quickly, so be ready by putting on layers. Start with a light base layer, add a stylish jacket or coat, and finish with a warm scarf or pashmina to stay comfortable in any weather.
Check out: Long-Lasting Women's Outfits for the Holiday Season
The Need for Comfort and Function
While looking stylish is important, don't forget about the need for comfort and function when choosing your race day outfit. Here are some tips to keep in mind:
Breathable Fabrics
Choose fabrics that let air in, like cotton or linen, to stay cool and comfy all day. These materials will help get rid of sweat and keep you from getting too hot, which is especially important on hot summer race days.
Comfortable Shoes
As was already said, you need to wear shoes that are comfortable to the race track. You'll probably be on your feet for a long time, so choose shoes that support and protect your feet well.
Practical Accessories
Accessories can make your outfit look better, but make sure they are also useful. A crossbody bag or fanny pack will keep your hands free while keeping your essentials. When the sun goes down, a lightweight jacket or shawl will keep you warmer.
Conclusion
Getting dressed for a day at the races can be both stylish and useful. By mixing classic trackside style with current trends, you can make an outfit that is both stylish and comfortable. Just remember to think about the weather and put comfort and functionality first when choosing what to wear. With these tips in mind, you'll be ready to rev up your style and enjoy a day of exciting racing action!
Frequently Asked Questions
What should I wear to a formal race day event?
For formal race day events, consider wearing a suit or a dress with a tailored jacket. Accessorize with a hat or fascinator, and don't forget a pair of stylish yet comfortable shoes.
Can I wear jeans to a race track?
Jeans might not be the best thing to wear to a formal race day event, but they are fine for less formal occasions. For a polished look, choose a dark wash and wear them with a button-down shirt or sweater.
What type of bag should I bring to a race day?
On race day, a shoulder bag or a fanny pack are both useful and stylish. With these bags, you can keep your important things close and still have your hands open.
How do I choose the right sunglasses for a race day?
Consider the shape of your face when selecting sunglasses. Aviators, wayfarers, and cat-eye styles are all popular choices for race day events. Polarized lenses can help reduce glare and protect your eyes from harmful UV rays.
What should I bring with me for unpredictable weather?
Layer your clothes and bring a light jacket or scarf so you're ready for any weather. A small umbrella is also a good thing to put in your bag for a race.
Read more: Winter Wonderland: Fashionable Outfits for Your First Date Night