April 13, 2023

fashiontuts

0
Summer is a great time to try out new nail designs and go for a clean, simple look. White nail designs are a great way to keep things simple and stylish while still standing out. So, let's dive into the world of white summer nail designs and look at the top 10 styles you'll want to try this season.
Reasons to Choose White for Summer Nails
White Nail Polish Benefits
White nail polish can be used for many different patterns, which makes it a great choice for summer nail art. It looks good on nails of different lengths and shapes, and against sun-kissed skin, it can make a beautiful contrast. It's also a standard choice that will never go out of style.
Complementing Your Outfits
One more benefit of white nails is how well they go with your summer clothes. White goes with everything, from your flowy summer dresses to your casual denim shorts and tank tops. You can take your look to the next level with the right style.
Trending White Nail Designs for Summer
Here are the top 10 white nail designs to try this summer:
1. White and Gold Marble
When white and metallic gold are used together, the result is a luxurious and eye-catching design. To get this look, paint a white base coat on your nails and then use a tiny brush or toothpick to make gold lines that look like they were marbled. For a glamorous finish, seal the pattern with a glossy top coat.
2. White and Silver Glitter
Silver glitter will make your white nails shine. Start with a white base, and then use a makeup sponge and a silver glitter polish to make a gentle gradient effect at the tips. This design is great for special events or summer nights out.
3. French Tip with a Twist
Choose a white tip in the shape of a V or a vertical line to update the classic French tip. This pattern gives your nails a little edge without being too much. Add shine with a clear topcoat to finish the look.
4. White Geometric Patterns
Geometric designs in white on a nude or pastel background will show off your artistic side. You can make circles, squares, and other shapes on your nails by using striping tape or a thin brush. This design is simple but eye-catching, making it a great choice for people who like things to be neat and simple.
5. Negative Space Nail Art
Negative space nail art lets you be artistic by leaving parts of your nails bare. Apply a white base coat and make geometric shapes with striping tape. Leave the tape in place while the polish dries. Remove the tape to show the empty space, and finish with a clear gloss for a unique, simple look.
6. Minimalist White Lines
For a simple, stylish pattern, try white lines on a nude or pastel background. Make a simple but stylish pattern on your nails by using a thin brush to draw thin white lines along the length or width of your nails. This design is great for people who like elegance that isn't too flashy.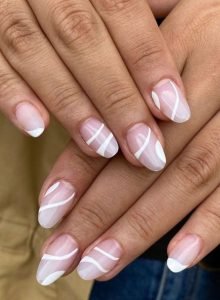 7. Abstract Floral Design
Embrace the beauty of nature with this white shirt with an abstract floral pattern. Use a thin brush or a dotting tool to make flowers and leaves in pastel or bright colors. This will give your nails a warm, fresh look. Put a glossy finish on your art to protect it.
8. White Polka Dots
With white polka dots on a nude or pink base, you can add a fun touch to your nails. Use a dotting tool or a toothpick to make dots on your nails that are properly spaced and different sizes to make them more interesting. This fun design is great for picnics and parties in the summer.
9. White and Pastel Ombre
With a white and pastel ombre pattern, you can make your hair look soft and dreamy. Using a makeup sponge, dab on a pastel color and mix it into the white base coat to make a smooth gradient. This design is great for people who want a bit of color on their nails without having it take over.
10. White Lace Accents
Accents of white lace on a nude or pastel base will give you a classy, girly look. To make your nails look like lace, use a small brush or a nail stamping kit. This design is great for weddings, backyard parties, or any other event where you want to look classy.
Read more: The Ultimate Guide to Choosing the Perfect Eyeliner Color for Green Eyes
Conclusion
White nail designs can be used to make summer looks that are both fresh and stylish. Whether you like simple or complex designs, these 10 gorgeous styles will keep your nails looking great all season. Don't be afraid to get artistic and try out different techniques and color combinations to find your perfect summer nail design.
FAQs
Q: Can I use gel polish for these white nail designs?
A: Absolutely! Gel polish works great for these designs, and it will also provide longer-lasting wear.
Q: How can I prevent my white polish from looking streaky?
A: To avoid streaky white polish, apply thin, even coats, allowing each coat to dry fully before adding the next one. You may need to apply more than two coats to achieve an opaque finish.
Q: Can I use regular nail polish for these designs, or do I need special tools?
A: Most of these designs can be achieved with regular nail polish and household items like toothpicks or makeup sponges. For more intricate designs, you may want to invest in a thin brush or nail stamping kit.
Q: How can I make my white nail polish last longer?
A: To prolong the wear of your white nail polish, make sure to prep your nails properly by cleaning and buffing them before applying your base coat. Always finish with a topcoat to protect your design and prevent chipping.
Q: Can I mix and match different designs on my nails?
A: Of course! Mixing and matching different designs can create a unique, personalized look that showcases your individual style.
Read more: Coolest Spring Nails Designs To Try in 2023